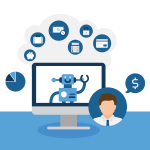 Welcome to the September 2022 issue of the Latest News in Financial #AdvisorTech – where we look at the big news, announcements, and underlying trends and developments that are emerging in the world of technology solutions for financial advisors!
This month's edition kicks off with the news that VRGL (pronounced "Virgil") has raised a $15M Series A round to scale up its tool that can scan investment account statements and automatically extract the available information about their holdings to analyze the prospect's performance, risk, diversification, fees, and taxes, with the potential to greatly expedite the process of developing an investment proposal with the advisor's recommendations for improvement.
The deal comes on the heels of similar "data gathering extraction tools" like Holistiplan (which scans tax returns) and FP Alpha (which scans estate planning documents), as more advisor technology solutions recognize that the real opportunity is not trying to develop "artificial intelligence" to replace financial advisors, but instead can make it easier for advisors to collect all the information they need to better analyze and make their own recommendations to prospective clients… effectively helping advisors to give better advice, rather than just trying to make it faster!
From there, the latest highlights also feature a number of other interesting advisor technology announcements, including:
Farther raises a $15M Series A to try to make a more efficient back-office for advisors to actually be able to take home a 75% payout
FMG acquires Vestorly to map its curation capabilities onto FMG's existing digital marketing tools
FutureProof and XYPN LIVE announce the finalists for their FinTechX Demo and AdvisorTech Expos to highlight new advisor technology innovation
Read the analysis about these announcements in this month's column, and a discussion of more trends in advisor technology, including:
SmartRIA launches an integration with Kitces.com to help RIAs manage the new IAR CE obligation rolling out from NASAA
Orion (re-)partners with Apex Clearing with an integrated financial-planning-and-digital-account-opening experience for younger clients with smaller accounts.
In the meantime, we're also gearing up for several new updates to our new Kitces AdvisorTech Directory, including Advisor Satisfaction scores from our Kitces AdvisorTech Research and Integration scores from Ezra Group's research!
And be certain to read to the end, where we have provided an update to our popular "Financial AdvisorTech Solutions Map" as well!
*And for #AdvisorTech companies who want to submit their tech announcements for consideration in future issues, please submit to [email protected]!