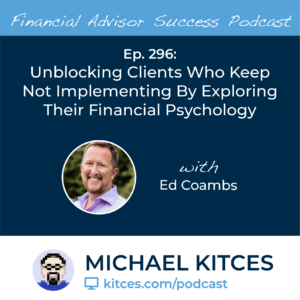 Welcome back to the 296th episode of the Financial Advisor Success Podcast!
My guest on today's podcast is Ed Coambs. Ed is the founder of Healthy Love & Money, a financial therapy practice in Charlotte, North Carolina that helps couples and families uncover and understand the roots of their underlying financial conflicts.
What's unique about Ed, though, is how as a former financial advisor turned financial therapist, he utilizes couples therapy techniques to help his clients dig deeper into the issues in their lives that may be preventing them from implementing their financial planning recommendations and helps them get unblocked to achieve their financial goals.
In this episode, we talk in-depth about how Ed learned from his early years as a financial advisor that the reason a lot of clients aren't achieving their goals isn't a logical problem but a psychological problem, how Ed developed his expertise in the psychological reasons why clients may have trouble completing their financial goals and what it takes to connect with clients on a deeper level so they can get past those stalling points, and where the boundaries are between going deeper with clients as a financial advisor, and when we may uncover a mental health issue that still requires a referral out to a mental health professional.
We also talk about how, while trying to educate himself on his own personal financial responsibility after receiving a small inheritance and seeing the lifestyle of his own financial advisor as a young adult, Ed was inspired to leave his career as a firefighter and instead pursue a career in the financial services industry, why Ed decided to go further in his career and become a financial therapist after seeing firsthand that even though he had the knowledge to make financial recommendations to his clients, there was something deeper that was stalling them from completing financial goals, and why Ed ultimately decided to pursue a graduate degree for marriage and family therapy to learn the therapy techniques that got him comfortable delving deeper into the more emotional issues that arise when talking to clients about their relationship with money.
And be certain to listen to the end, where Ed shares his own challenges in launching a financial therapy business, from the imposter syndrome of insecurity about being a financial professional to the marketing challenges (that he eventually solved by cutting back on the networking and simply hiring someone with expertise in website SEO), why Ed has decided to turn his financial therapy expertise with clients into a group training for advisory firms to learn how to apply the psychological techniques with their own clients to develop more honest and open relationships (as there is always a more complicated story under the surface than the one the client is telling), and the philosophy Ed embraces of not focusing on the things you didn't know throughout stages in life (as that's a normal part of growth), but rather reflecting on how far one has come on their journey and all the wisdom that we've gained to get us to this point in time.
So, whether you're interested in learning about why Ed felt becoming a financial therapist could help him have a greater impact on his clients' lives, how Ed helps families and couples connect with the psychological reasons they are stalled when it comes to finances, or how Ed works with advisors to help them identify the financial issues that are affecting their clients, then we hope you enjoy this episode of the Financial Advisor Success podcast, with Ed Coambs.